North Melbourne House
featured on Grand Designs Australia (Episode 8, Season 10)




The North Melbourne House is an experiment in small footprint living, maximizing the potential of an infill inner-city site for a sustainable single family dwelling, enriched with the qualities of the heritage urban fabric surrounding it.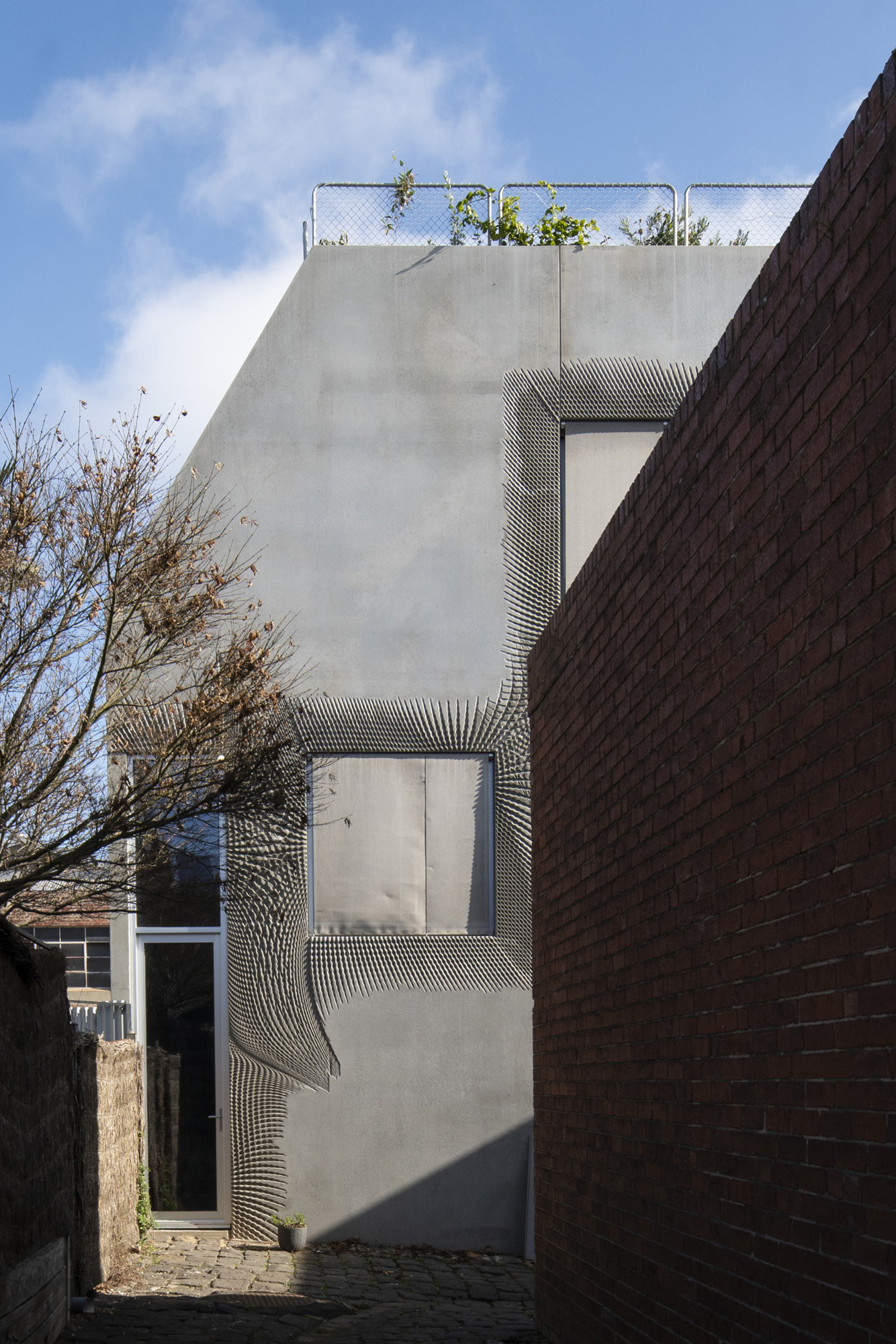 The project site, measuring approx. 8 x 8m is located at the center of an inner-city North Melbourne block, accessed via a network of laneways and surrounded by converted warehouses and historical houses.

The project responds to this character in an unashamedly contemporary manner, however one that draws on the industrial heritage of the area. By infilling a new family home on a small site that had been vacant for many years, the project minimizes environmental impact by supporting existing neighborhood infrastructure and minimizing consumption of land at the urban periphery.


Surrounded by laneways on three and a half sides, the house is an extruded three story volume, with the south-east corner cut back to minimize over shadowing of the houses to the rear of the site. The design adapts the historic warehouse 'loft' plan, providing column free interiors, allowing for future adaptation and flexibility.


The ground level comprises garage and home office, the second level; three bedrooms, bathrooms and en-suite, while the third level is open plan living, kitchen and dining, with views to the Melbourne CBD. An outdoor stair from the third level, provides access to a roof top garden providing a high quality outdoor open space on a very tight inner urban site while reducing urban heat island effect, retaining rain-water on site and providing high levels of insulation the living spaces below.


mold fabrication in the RMIT Robotics Lab


The main material and structure for the project is pre-cast concrete panels, allowing for very rapid construction while eliminating the need for scaffolding on this very tight site. Bild Architecture is working closely with the RMIT Architectural Robotics Lab to develop an innovative robotic fabrication system for mass customized pre-cast concrete form liners for the project.



This system allows for the surface of the concrete to be patterned in a way that is continuously differentiated, that is it allows for the whole façade to be designed as a single composition, rather than a repeating or modular pattern. In this case the façade pattern is generated based on the amount of shadow cast from the adjacent building proving more relief in areas of greater shadow, similar to the façade articulation of historic facades that increase relief around areas of visual interest.


The 8x8 house is a study in innovation for contemporary housing in compact inner city infill sites, exploring the adaptation of historic building types through the application advanced manufacture and robotics.



The journey of building the North Melbourne house was featured in Episode 8, Season 10 of Grand Designs Australia, avilable to stream on demand via Foxtel.

Project Status: Completed 2021
Images: Bild Architecture